Linda Carloni is an active bird-watcher, community volunteer and gardener who also practices Business Law. Linda moved to Alameda in 2010, in part to find a larger, level, sunny place to garden. As a novice gardener needing some assistance, Linda found ABG's members exceptionally generous with helpful advice. She has had gardening success in Alameda with Satsuma mandarins, Meyer lemons, tomatoes, tomatillos, green beans and leafy greens, and she keeps trying new varieties and techniques. Linda coordinates ABG's monthly meetings, which offer interesting topics and speakers related to urban farming. Linda also plans and coordinates special events as part of the Community Education & Outreach Committee, and handles a variety of legal and logistical tasks to help keep ABG running smoothly.
---
Birgitt Evans has grown her own food on a large scale for the past 25 years, experimenting with new crops like oca and pepino dulce as well as dietary staples like potatoes, onions, garlic and dried beans. She has been involved with Alameda Backyard Growers since its inception, providing inspiration to its co-founders and putting together the Master Gardener Series of presentations at our monthly meetings. Birgitt has served on several boards, including the Board of the Alameda County Master Gardeners for the past 13 years. She is passionate about growing and raising food and seeks to both encourage and educate others so they can also share the benefits of fresh, healthy, homegrown food. Birgitt serves as President of the ABG Board.
---
Holly Johnson is a garden enthusiast with her best successes in strawberries, blueberries, peaches, and parsley. By day she works in fundraising at the UC Berkeley School of Law. Holly has lived in Alameda since 1999 but also counts Santiago, Chile, as home. She's a lifetime subscriber to Sunset Magazine and is happy to give away succulents for water-free gardens!
---
Marla Koss is a local artist and Cal alumna who began gardening after moving to Alameda in 1980. As a flight attendant away for days or weeks at a time, she found coming home to play in the dirt an excellent cure for jet lag. Thirty-plus years of backyard mistakes and triumphs later, Marla loves swapping tips and tricks with other island gardeners at Alameda Backyard Growers meetings and events. In the spirit of ABG's "Grow Some, Keep Some, Give Some Away" philosophy, she donates extra fruit and veggies from her garden to the Alameda Food Bank (including tomatoes, lemons, persimmons, zucchini, peaches and plums) and helps glean local fruit trees as part of ABG's "Project Pick" fruit gleaning program. Marla serves on the Community Education & Outreach Committee and the Gleaning & Growing Committee, and also heads the committee that organizes ABG's participation in the annual City of Alameda 4th of July Parade. She is also coordinating Project Tree in conjunction with the Alameda Sun.
---
Cynthia La Croix spent the last twenty five years working in the financial services industry for regional credit unions. Prior to that you could see her on our local playgrounds as a park director. She feels fortunate to find a group of enthusiastic civic-minded gardeners that need fruit pickers to donate to the Alameda Food Bank. As a life long Alamedan, she appreciates how people continue to find avenues to give back and bring a sense of community to our town. Cynthia has memories of walking through rows of corn (where the St. Joseph Gym now stands) when she was young and strawberries growing in the side yard at her family home. Since her retirement, with the wealth of knowledge in this group, she's had good luck with container gardening at her home. Volunteering is a family tradition and she has found a great organization to continue that legacy.

---
Alison Limoges is the resident manager of an apartment complex and is retired from teaching, managing volunteers, foundation work, etc. With her husband Ron and family she has moved often and has gardened in 9 states. Her love of gardening and ceramics (another venue for playing with dirt) comes from her mother. To make new friends and gain California gardening experience when she moved to Alameda in 2011, Alison attended ABG functions and trained to be a Master Gardener. Through these organizations she has met skilled, dedicated, generous gardeners who teach her a great deal about microclimates, sharing produce and how to succeed as a balcony-and-beyond gardener. Alison serves as ABG's Board Secretary, is a member of the Community Education & Outreach Committee and gleans with Project Pick.
---
Ron Limoges is retired from a 40-year career in which he planned, managed and implemented resource development activities for a wide range of not-for-profit, community and public organizations in the U.S. and abroad. He also served as a personal advisor to individual entrepreneurs and their families, focusing on the management and distribution of philanthropic investments. Ron serves on both the Fundraising & Finance Committee and the Gleaning & Growing Committee. He has no gardening abilities whatsoever, but he enjoys collecting produce from all over Alameda island for donation to the Alameda Food Bank. Ron serves as the ABG Board Treasurer.
---
Carolyn Mason was raised in Alameda and enjoys the small town atmosphere it offers.  After working as a legal secretary for 40+ years, she is now retired.  Her interests include long-distance cycling, watercolor/acrylic painting and gardening.  She is a founding member of ABG and enjoys the educational and volunteer opportunities it offers.  She grows apples, raspberries, strawberries, Meyer lemons, Mandarin oranges and kale in her three brick raised beds.
---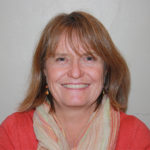 Jillian Saxty is an independent graphic and web designer who lives in Alameda. In her spare time she loves taking care of her tiny urban 'farm' complete with rabbits, chickens, fruit trees and vegetable beds. You may also have seen her buzzing around town in her tomato red Fiat 500e. She joined ABG on October 10, 2010 when the group participated in a global Day of Action Against Climate Change by helping build a giant compost pile at Alameda Point Collaborative's Ploughshares Nursery. Since then, she has energetically supported Project Pick and loves that it is a direct, community-based way to transfer backyard fruit that would otherwise go to waste to hungry local families. Currently Jillian leads the Project Pick team, runs the ABG website and serves as the ABG Board Vice President. She hopes to continue the gradual work of making Alameda food-and-energy-independent, or at least the greenest little town in America!
---
Mary Sotelo got her love of gardening from her grandmother when she was a little girl. She manages to pack a lot of fruits and veggies in her small yard.  She gardens intensively in the ground and in large pots. She also raises chickens. She does a lot of composting in her two bins. She also runs a bilingual preschool from her home and the garden and chickens are a big hit with the children. She loves bright colors as is evident in her orange and chartreuse chicken coop, colorful outdoor furniture, and bright pots.