by Marla Koss, Alameda Backyard Growers
Published in the Alameda Sun – Thursday, February 8, 2018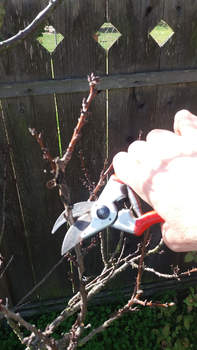 Here comes Valentine's Day, that 24-hour celebration of hearts, flowers and chocolate overkill. But more than a frolic, Valentine's Day is a handy marker on the Bay Area gardener's calendar for midwinter chores. For instance, the mnemonic device for yearly citrus feeding lists Valentine's Day, Memorial Day and Labor Day. So the first scattering of fertilizer should hit the dirt under the citrus before opening any turquoise boxes from Tiffany or pouring the bubbly.
By early February deciduous fruit trees have been dormant for a month or more; it won't be long before the earliest varieties burst into bloom. This is a perfect time to prune for ultimate size and shape of a young fruit tree, as it is for ridding an established tree of dead wood and unwanted growth.
Pruning just before dormancy ends allows cuts to heal faster than they would in December or early January. Faster healing can help lock out certain diseases.
Pruning a fruit tree can be unnerving and may actually be the reason many don't even try to guess how to do it. Gardeners cross fingers that Nature will sort it out, but it never really does. After all, the fruit trees grown in Alameda are not native and depend on a gardener's care to produce and thrive.
Pruning workshops, online tutorials and books on the subject along with the moxie to get out there with pruning shears in hand will help demystify pruning over time. Two highly recommended books on the subject are Ann Ralph's Grow a Little Fruit Tree and the latest edition of R. Sanford Martin's classic guide How To Prune Fruit Trees and Roses.
Read the original article in the Alameda Sun here.
Alameda Backyard Growers (ABG) is a network of gardeners in Alameda that grow food and donate fresh produce to neighbors who face food insecurity. Find the schedule for ABG's monthly education meetings at www.alamedabackyardgrowers.com. ABG's Project Pick is always looking for fruit trees to pick and volunteers to help pick and deliver fruit to the Alameda Food Bank.
To sign up email info@alameda backyardgrowers.org or leave a message at 239-PICK (239-7485)