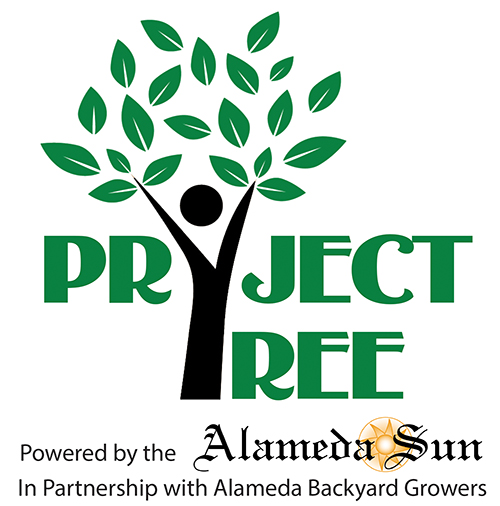 Phase 2 – Started January 26, 2019
Winter is a great time to plant a tree, and we want to help you plant one. In Project Tree Phase 2, the Alameda Sun and Alameda Backyard Growers teamed up to offer Alameda residents training on tree planting and care, together with a coupon good for $25 off the price of a tree purchased at Encinal Nursery or Ploughshares Nursery. These coupons are valid from January 26 to June 30, 2019.  Online tree care information will also be available for free downloading. For more information email us at info@alamedabackyardgrowers.org with "Project Tree" in the subject line. Thank you to the Alameda Sun for helping make this possible. Read the latest article in the Sun on Project Tree.
Here are some articles that may help with your tree purchase:
Choosing a Fruit Tree for Your Alameda Yard
Plants Resistant or Susceptible to Oak Root Fungus
Phase 1
A longtime dream of Eric Kos of the Alameda Sun is came true in 2016. The Alameda Sun has funded a tree-planting effort here in Alameda, donating $1,000 to Alameda Backyard Growers (ABG) in 2016-17 to fund a tree-planting effort hereby dubbed "Project Tree."
Fruit tree recipients were required to:
Live in the City of Alameda
Have an adequate space for the tree planted in the ground (not container)
Live in the home where the tree would be planted
Attend an orientation on the proper care of their tree
Care for the tree
In Phase I, Project Tree volunteers planted a total of 34 new trees in Alameda, including orange, fig, mandarin, apricot, plum and apple trees. Twenty-four families received trees, as well as the Alameda Girls and Boys Club and NEA CLC School.
Read more articles about Project Tree here.
Save
Save
Save
Save
Save
Save
Save
Save